Ruth's Blog
Tomorrow Flint Hill heads to York for the Sunday Series Staying Race over 2 miles. He is a horse that needs every yard of the trip so a large field competitive handicap should suit him. His race at Doncaster developed into a sprint when the obvious pace horse was withdrawn which would not suit him. Hopefully he can build on that run and put up a bold show. He ran well at York last year.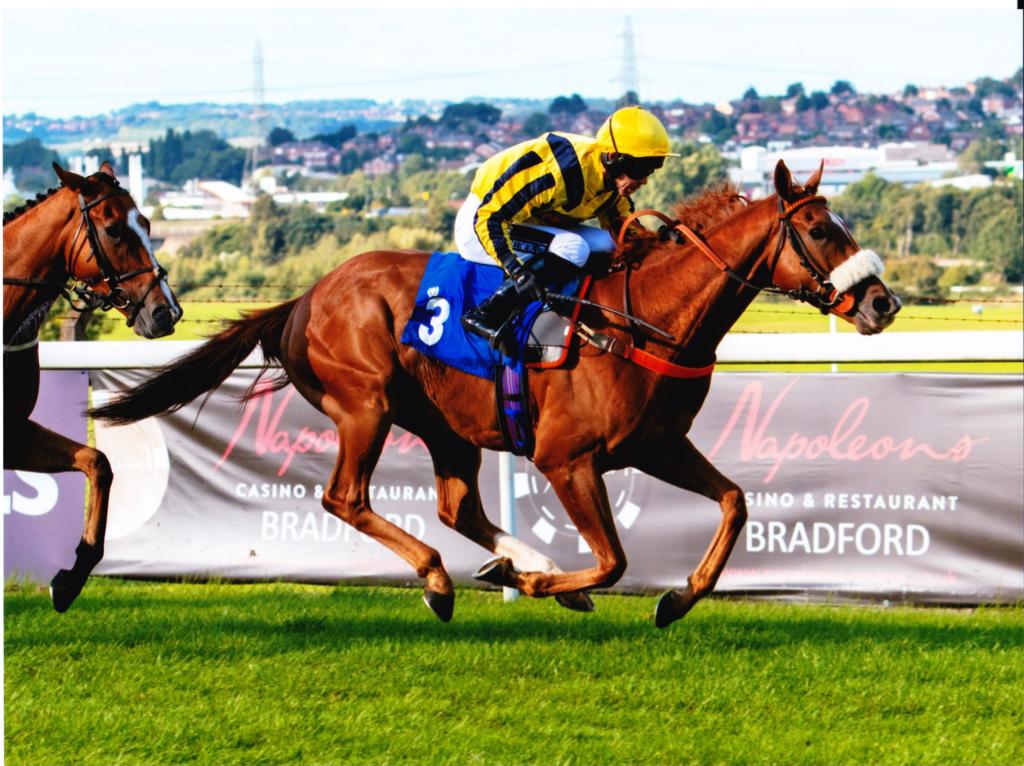 On Tuesday Secret Eagle runs at Newcastle over 6 furlongs. No one has quite worked out his best trip so its more likely dependent on how the race is ran rather than the trip itself. He has been consistent this season so I would hope to get his head in front at some point this season.
We did watch all of Inca Prince's races before we purchased him privately so you could say we were aware that he tends to run keen in his races. His three wins over hurdles for us all came from using font running tactics so we thought we would give him the opportunity to test them on the flat. It didn't work and he will now revert to hurdles for the summer before having a break.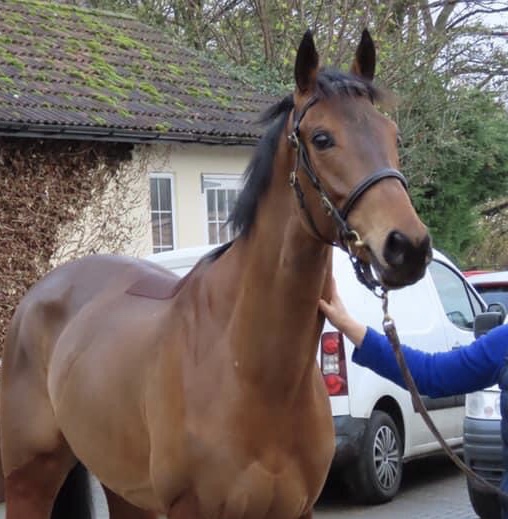 I do not think trying different tactics on the flat would work either as hold up tactics were tried in Ireland by his previous trainer. He probably doesn't have a best trip on the flat either and at least when jumping hurdles he gets the chance to take a breath!
Its being a tough season here at Newstead so far this season and mildly frustrating as the horses have generally ran well without winning – and we all like winners!
The new gallop has bedded in well and we are starting to find a routine on it which suits the horses. Jampot Eddie was my test case as he is now trained almost exclusively on the sand and he ran well on his first start in a bumper at Newcastle; he didn't blow much afterwards either! Not the fastest horse he will now go novice hurdling and will step up to three miles in time. A horse who has had many an interruption due to injury it was nice to get hi to a racecourse and run.
Other bumper horses that have ran well include Mauritian Bolt who will now go hurdling; Sir Jim who will have another bumper run before going hurdling and I was pleased with Robyn Pud, who has suffered badly from ulcers and stayed on well in a messy race and has schooled nicely since. She will go hurdling now.
All being well Waiting Patiently will go for the Tingle Creek on Boxing Day. He is in very good form with himself at home and ready to run. A clear, uninterrupted round would suit me as that way we will find out if he has the stamina for three miles.
Double W's has now officially retired and is going to be very spoiled by Jo & Lucy Hughes who are taking him. He will be hunting, hacking and doing a bit of eventing and ROR. They have been to ride him and fell very much in love. He has done us proud and owes us nothing and we own him a happy retirement. He will be missed and these types are not easy to replace.
Clondaw Caitlin has met with a small setback – a small stress fracture and will not be seen until the end of the season. She ran so well on debut that it is disappointing but worse things happen and she will make a full recovery.
Nice to get a winner on board with Tayzar at Warwick and particularly pleasing to see him follow up at Sedgefield last week as well. Theo Gilard seems to get on well with him and whilst we have some good ground about we will take our chance; hence his entry at Fakenham on Friday.
The horses seem well in themselves at present and I was pleased with all three runners at Hexham. Flint Hill gave Cillin Leonard a torrid time but had great fun himself in the novice hurdle. I didn't expect him to win but thought he ran with credit and showed a lovely attitude to run to the line. He seems a very versatile horse who will give someone a lot of fun as an owner. Black Ebony travelled strongly and jumped well as well and just ran into one. He will come on for the run mentally perhaps more then physically/fitness wise and he will be out again soon. Mauritian Bolt is a cracking little horse and he ran a lovely race despite been green. The winner was well tuned up and had previous experience in the point to point field but "Usain" did well to come from the back and stay on so well to be second. He is for sale!
There will be a couple more runners this week with Double W's taking his chance at Wetherby (ground permitting) and Tayzar again at the end of the week. Clondaw Caitlin will not be heading to Wetherby as I felt the ground may just be quick enough for her over the trip.
My favourite month – and no, I wasn't born in September! This month for me always has the feeling of a new term, a new season and a new year. Probably because we are cusp of the new jumps season starting and Autumn is in the air.
Tomorrow Cyrus Keep makes his seasonal debut. He has worked and schooled well so i'm hopeful he jumps well and runs his race. He may need it – its impossible to tell until one or two start to run and you get an idea of where they are on the fitness scale. Nathan Moscrop takes the ride as he has being coming in to ride out with Jamie being injured. I hope they run well and come back in one piece ready for the next day!
The sand gallop should be finished this week and the horses will start to have it built into their routine.
Officially known as the worst month in the year! It isn't a month I enjoy as it tends to be like the film groundhog day with everyday the same and very little going on. This year it is different with some of the horses coming in earlier for a September campaign so at least some are working with the view to running.
Talking of runners, Double W's will get entries for next weekend at Uttoxeter (2m 4f) and Cartmel (2m). He didn't run as well as I had hoped last time and we have since jabbed his stifles as he was a little sore in one post race. He is bouncing at home so it would be nice to see an improvement in fortunes should he run. I'm also looking for a race for Flint Hill who has finished second on both his hurdle starts. The winner and third from his last race have both won since and he could run on the flat if needs be. He is absolutely bouncing but would not want the ground too quick.
We are also putting in a deep sand gallop at home and work began this week with the ground needing levelled out. It should be finished in a couple of weeks and I am looking forward to incorporating it into the horses regime. I like the gallops we use but they are just easy enough for jumpers and I think the decision has been justified already – I took 4 to Richard Fahey's to work on his gallop which is much deeper then ours and they all had a good blow and are a week or two behind where I had hoped to be. Its a financial drain at a tricky time but hopefully the risk will pay off.
Finally, you know the jumps season is just around the corner when Paul Furguson comes to visit! His book Jumpers To Follow is always a good read and he asked for a horse to follow this year. I've nominated Cyrus Keep who is a homebred Doyen out of Overbranch. Like his mother he is a small, compact horse and the penny has taken a little while to drop. He should win a couple once things fall in to place and he looks stronger this year so I'm hopeful he will build on last season and give our Racing club members some fun!
Here at Newstead we have always enjoyed breeding horses and this has continued. This year we welcomed three new foals into the world.
Oleohneh: Oleohneh won two bumpers and ran well over hurdles before injury curtailed her career. She was covered by Fame And Glory and her subsequent colt was sold as a foal. He was resold last year at the Land Rover Sale and is now in training with Henry de Bromhead. Named Old Durham Town we are looking forward to following his career. Her second foal sadly died and we have retained the next three for now. Her two year old is a gelding by Pether's Moon. Her yearling is a filly be Blue Bresil. She has been registered for the Great British Bonus and is eligible for Bonus's for £20,000. Her foal is a colt by Yeats, a sire I really like.
Our Ethel: Ethel has been a broodmare for quite some time and has had 14 foals. She has had six winners to date and we have some nice young ones coming through who should add to that tally. As she was 21 years of age last year we decided this would be her last foal and covered her with Passing Glance. The result is a rather lovely filly who is a full sister to Cheltenham and Aintree winning hurdler Attaglance. She is also eligible for the £20k GGB and will be registered for the scheme.
Ethelwyn: Our Ethels only winning filly to date. She has been difficult to get in foal but we succeeded and the result is a Norse Dancer colt. They had a rocky start but they are both thriving now.
None of the mares have been covered this year and next year we will cover Oleohneh and Ethelwyn.
Its being an unusual summer with the horses finished earlier then normal due to Covid-19. It looks like normality is around the corner and the jumps racing is about to begin. We have a handful in early with a view to running next month and Double W's will probably be our first runner at Uttoxeter mid July. Flint Hill will begin over hurdles but will then switch back to the flat. Tayzar is in as are a handful of others aiming to be ready at the start of September.
The main "winter" horses are returning this week and next and then we will be back in full swing! It is fair to say having being turn out looking well they have thrived this summer and look really well coming in.
The yard has been cleaned, disinfected and painted. With no roofs to replace this year we are instead planning to put in a small sand gallop at home to complement the facilities we use at Langton Wold Gallops.
Following Boxing Day all the horses were given Flu and Herpies vaccinations. We do these every six months in the hope they boost the horses immune systems and help them stay healthy. Over this period the majority of the string are freshened up for a spring campaign.
We have been pleased with Condaw Caitlin's aptitude to hurdling and, although it is difficult to say how good a horse she has beaten, she has won both her hurdle starts very well and shows a useful turn of foot in the closing stages. We have options going forward and she seems to thrive on racing so we will continue whilst she is in good form.
Return Ticket ran well at Catterick but will probably benefit from coming back to two miles. A big galloping track will also help him as he is not the best at fiddling fences!
It goes without saying that we were disappointed Waiting Patiently met with a setback when chipping a bit of bone off his joint but he has come out of his operation well and will make a full recovery.
Following a frustrating start to the season where nothing quite fired but we couldn't find anything wrong, we found a few of the string had mucus in their lungs. A couple of weeks of routine canters without working them seemed to work albeit about four needed antibiotics. Since then we have had a couple of seconds and, finally, a couple of winners!
Buster Valentine ran an unusual race in that he never looked like winning until about two out and then won nicely. Unfortunately he struck into his leg, narrowly missing the tendon and is currently at the vets where they are (hopefully) preventing infection. He will need a period of box rest then rehabbed back to full fitness and it is likely he will miss the season.
Clondaw Caitlin won a bumper on her second start under rules. She had showed enough at home to suggest a bumper win wasn't beyond her but it was more we wanted to boost her confidence following a fall in a point. She may run in another bumper if the opportunity presents it self and if not she will start her hurdling career.
We have a few possible runners coming up and hope the horses continue in good form.