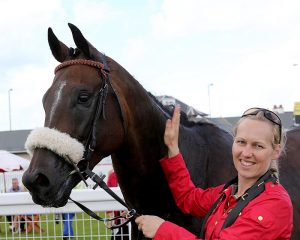 Ruth was brought up at Newstead Cottage Stables, has grown up in and around the hustle and bustle of a busy racing yard, and knows nothing else. Perhaps that is not entirely true!
With two ponies growing up Ruth joined the pony club and competed at the odd event but was more interested in the racehorses and started riding out when she was twelve.
Helping out at the stables, sweeping the yards and brushing the horses before and after school, her holidays were spent doing pretty much the same. And when the yard became quiet for a few weeks during the summer, with the jumpers all turned out, Ruth would ride out for various flat trainers including Clive Brittain, Richard Fahey and Michael Dods.
Interested in the sales and breeding from a young age she would also accompany her father, Malcolm, to the various bloodstock sales looking for a bargain.
Leaving school at 16 she worked at Newstead for a couple of years before going back to study for her A-levels. She left two years later with qualifications in Sociology, Psychology, Chemistry and Biology!
She missed the racing world though and soon slipped back into working full time for her father taking a keen interest in all aspects, from finding races and making entries to veterinary and breaking youngsters.
In 2009 Ruth acquired the necessary qualifications to travel the horses in their four-stall horsebox and took over a lot of the travelling. It was around this time she also took on the role as assistant trainer. And shortly after added breaking the youngsters to her responsibilities.
"Although I went back to school, I have never wanted to do anything else. It's all I ever wanted to do. Train racehorses. But obviously the circumstances in which this took place are not what I would have chosen," says Ruth.
With her training modules completed some time ago, Ruth received her training license shortly before Malcolm passed away and just two and a half weeks later Waiting Patiently landed the Grade 1, Betfair Ascot Chase at Ascot on February 17th, 2018. A very special and emotional day.
Over the years one of the many attributes of Malcolm's training was the notable consistency to the form of the horses to come out of Newstead Cottage Stables. This is something Ruth aspired to continue and feels the results to date have shown that she can get the best out of the horses in her care.